PAINT™ Your Life Colourful
New 4-week Group Program starting in January 2023!
During this FREE Training I'll reveal how you can have a happier life, with a job you love, a vibrant body and mind, and deep, long-lasting relationships with those you love.
You'll learn how the Universe warns you when you stray from your intended life path. I'll share a unique process to solve your problems faster than you ever thought possible, and a simple way to boost your own intuition, so you can have confidence in your inner voice.
I'll also show you how to use my repeatable 5-step process to solve any challenges you're facing in your life right now, as well as in the future.
Stop living a life in black and white; PAINT™ Your Life Colourful; sign up today!
Denyse (Your Intuitive Coach)

In this LIVE session, you will discover how to
PAINT™ Your Life Colourful
to bring back happiness and your joy of living
Some of the other topics I'll be covering include:
The #1 thing you need to know to find more happiness in your life

Why sometimes your little problems become bigger and bigger, until you can no longer ignore them

3 reasons why most people stay in careers that don't inspire them

Why most people don't live the joyful life they should be living

How you can boost your intuition so that your gut feelings become more reliable
….and MUCH, MUCH MORE!
If you'd like to stop living a life that brings you no pleasure, find the ideal career you've always dreamt of, a healthier body and mind, and relationships that are built on love, then you don't want to miss this free webinar.
Register today to learn just how quick and simple it can be to identify exactly what you need to change, for a life of joy and satisfaction.
DON'T DELAY: I keep the number of places limited, so I can connect with each participant intuitively. Each session fills up quickly, so to secure your spot, register now!
---
Who is Denyse Drummond-Dunn?
(Your Intuitive Coach)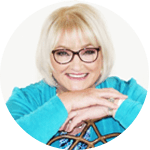 As someone who:
smashed through the corporate glass ceiling of several multinationals before being fired
suffered a serious hiking accident in the Alps
recovered from a life-threatening illness
almost died on the operating table because of an impossible medical error
I've had more than my share of crises in my life. But I am an optimist who thinks that we all deserve to be happy, whatever life throws at us. I believe the challenges we are given, are precisely what we need at that moment to help us to learn and grow. Whatever crossroads you are at in your life, you can make the right choice. I take great pleasure in shining a light on the darkest moments of people's lives, showing them how to find their way out and back onto the path they were destined to follow. I am an intuitive coach who refused my gifts as a child so I would fit in. But after decades of receiving messages for myself and others, I have finally embraced my talent openly. Today I use my abilities to help those who seek more happiness in their lives. Now you may be asking how that differs from a regular coach? Well, an intuitive coach is someone who follows the principles of traditional coaching, but who also enables you to connect with your own inner guidance. By using your innate intuition, amplified by my intuitive powers, you will be able to tap into your natural talents and discover the destined path to your happiest life ever. And if all this sounds a bit woo-hoo, don't worry. As you can see from my photo, I'm not a long-haired, flowing-robed, bead-wearing weirdo, I'm a completely normal person. Remember, I've been a corporate businesswoman all my life, even though deep down I knew it was not fulfilling and that something bigger was waiting for me. Let me ask you a few questions:
Are you working too hard, yet still don't get the recognition you think you deserve?
Do you long for deeper relationships with your partner and friends, or are still looking for that "special" someone?
Are you suffering from continued poor health, lack of energy and motivation?
Have you been searching for your life's purpose, but still feel unfulfilled?
Are you just plain unhappy with your life?
Do you feel unhappy because you are not living the life you dreamt of as a child?
If one or more of these is true for you, then it's time to do something about it!
When you make the decision to find more happiness in your life, whatever that is for you, and follow my process, then things will start changing. And as if that weren't enough, you can also learn how to tap into your own intuition, because connecting with me will amplify yours and give you the confidence you need to listen to that inner voice.
---
I know that sometimes it's difficult to join our LIVE webinars because, well, life happens!
That's why we also offer the opportunity to watch a replay of the last LIVE webinar. Sign up and you'll have 24 hours to watch it if you can't join the live session.
---